Lutron Caséta Smart Dimmer Switch for ELV+ Bulbs, 250W LED, PD-5NE-WH, White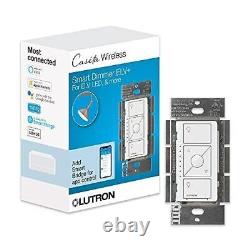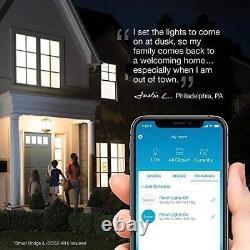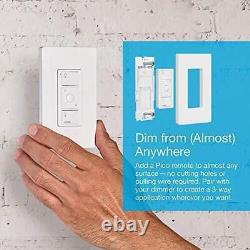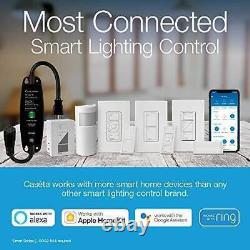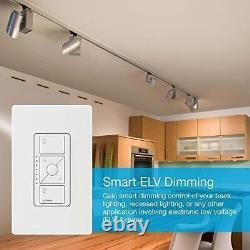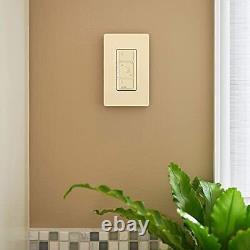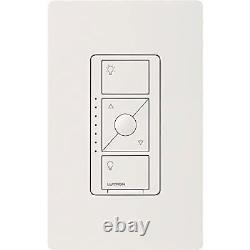 Lutron Caséta Smart Dimmer Switch for ELV+ Bulbs, 250W LED, PD-5NE-WH, White. EASY INSTALL: Easily replaces your existing switch in as little as 15 minutes; NEUTRAL WIRE REQUIRED.
Smart ELV Dimming: Gain smart dimming control of your track lighting, recessed lighting, or any other application involving electronic low voltage (ELV) fixtures (smart hub, L-BDG2-WH, required for smart control). PEACE OF MIND: Set lights to automatically adjust with seasons so your family always comes back to a well-lit home; enable smart away to randomly turn your lights on/off to look like you're home even if you're away (Caséta Smart Hub, L-BDG2-WH, required). MOST CONNECTED: Caséta connects with more leading smart home devices - including Amazon Alexa, Apple Home, the Google Assistant, Ring, Serena shades and Sonos - than any other smart lighting control brand (Caséta Smart Hub required). CONTROL YOUR WAY: Caséta puts the smarts in the switch so you can control your lights a variety of ways - via the free Lutron app, with your voice, or at the switch. Set automatic light schedules or activate scenes with a button (hub required). GET MORE, SPEND LESS: One Caséta smart switch can control many bulbs at once; make many bulbs smart, even your existing bulbs. Get smart control of multiple styles of dimmable LED, incandescent, and halogen bulbs. WIRELESS REMOTE CONTROL: For added convenience, use with wireless Pico remote (PJ2-3BRL-GXX-L01) to turn your lights on, off, or dim and brighten with the touch of a button from anywhere in the home. Replace existing 3-way switches by mounting the bracket and Pico over the backbox. TECHNICAL DETAILS: Works with up to 250W of dimmable LED/CFL, 500W of incandescent/halogen or ELV, or 400W MLV; 10W minimum load required. Bring Technology and style to your home with the Lutron Caseta ELV+ dimmer. The Caseta ELV+ Dimmer allows you to recall your favorite light level with the new preset button for added convenience and is designed to control many loads types: 500-Watt of incandescent, halogen or electronic low-voltage, 400-Watt of magnetic low-voltage and 250-Watt of dimmable LED or dimmable CFL (neutral wire connection and 10-Watt minimum load required for all load types). Out of the box the dimmer is set to control ELV, incandescent, halogen and many compatible LEDs, however is phase selective the dimmer output can be changed for MLV and certain LED bulbs with simple button press programming. The Caseta ELV+ dimmer is a great solution for LED fixtures with integrated, built-in drivers, ELV track lights and problem LEDs that may prefer an ELV dimmer.