Lutron Caséta Wireless Smart Lighting Dimmer Switch for Wall and Ceiling Lights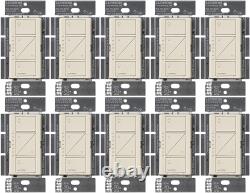 PEACE OF MIND: Set lights to automatically adjust with seasons so your family always comes back to a well-lit home; enable smart away to randomly turn your lights on/off to look like you're home even if you're away (Caséta Smart Hub, L-BDG2-WH, required). MOST CONNECTED: Caséta connects with more leading smart home devices - including Alexa, Apple HomeKit, the Google Assistant, Ring, Serena shades and Sonos - than any other smart lighting control brand (Caséta Smart Hub required).
CONTROL YOUR WAY: Caséta puts the smarts in the switch so you can control a variety of ways - via the free Lutron app, your voice or from the wall; schedule lights to change at set times or activate scenes with the touch of a button (Caséta Smart Hub required). GET MORE, SPEND LESS: One Caséta smart switch can control many bulbs at once; make many bulbs smart, even your existing bulbs.
Get smart control of multiple styles of dimmable LED, incandescent, and halogen bulbs. WORKS IN ANY HOME: Unlike other smart dimmer switches, Caséta works in any home, of any age, as it does not require a neutral wire.
WIRELESS REMOTE CONTROL: For added convenience, use with wireless Pico remote (PJ2-3BRL-GXX-L01) to turn your lights on, off, or dim and brighten with the touch of a button from anywhere in the home. Replace existing 3-way switches by mounting the bracket and Pico over the backbox.
TECHNICAL DETAILS: Works with up to 150W dimmable LED light bulbs/CFL light bulbs or 600W incandescent bulbs/halogen bulbs; not rated for low voltage applications i. We advise you to use a reputable carrier service when returning your goods. We guarantee that your issue will be solved quickly. We usually respond within 24 hours on weekdays.