Digital Dimmer Light Switch for 300W Dimmable LED/CFL Lights and 600W Incandesce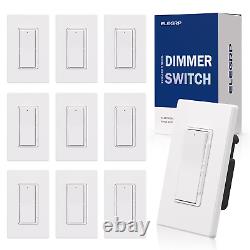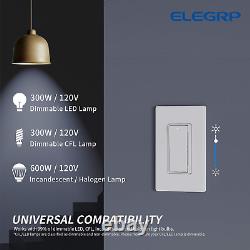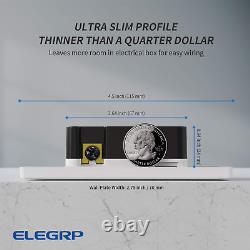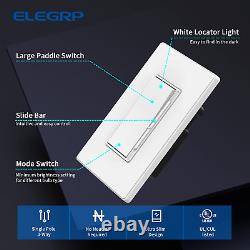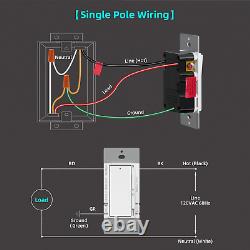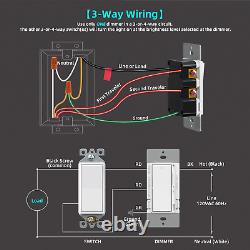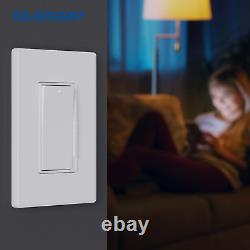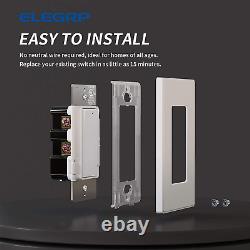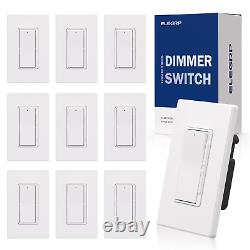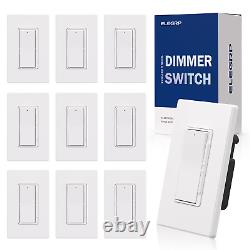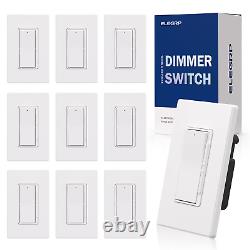 MCU integrated digital circuit control technology enables smooth dimming of the widest range of LEDs with high consistency, high compatibility and changeable dimming curve. Works with dimmable LED/CFL rated up to 300W, Incandescent & Halogen light lamp bulbs rated up to 600W on the market.
Works with 99% of dimmable LED, CFL, Incandescent & Halogen light lamp bulbs. NO NEUTRAL WIRE REQUIRED - ideal for homes of all ages. Replace the existing switch or dimmer in as little as 15 minutes. Ultra-slim profile easily fits in electrical box and wall plate.
Rational design for comfortable and intuitive control. Can be used in single-pole or 3-Way applications, where lights are controlled from one or two locations. Use only one dimmer in a 3-or-4-way circuit.
The other 3-or-4-way switch(es) will turn the light on at the brightness level selected at the dimmer. Add an optional white locator light to easily find your dimmer switch in the dark; By factory setting, the locator light is on when the light is switched off and off when the light is switched on; The locator light could be switched off. Lights fade up smoothly, allowing your eyes to adjust to the new light level.
Reduce the current at the moment of turning on the light, so to prolong the service life of the bulbs and dimmer. Tough thermoplastic housing shrugs off impacts and scratches. Energy-saving and long operating life. ELEGRP LIGHTING CONTROLS - Control your delight.
Easily fits in the electrical box and wall plate. Reduce the probability of flicker. Not easily interfered by the power supply and loads. MCU integrated digital circuit control technology enables smooth dimming of the widest range of LEDs with high consistency. Changeable dimming curve before manufacturing.
No derating is required in dimmable CFL or dimmable LED multi-dimmer installations. You can adjust your lamps to the desired level for acquiring preferred brightness, bright level for reading, working, studying while the dim level for creating a perfect ambient atmosphere. NO NEUTRAL WIRE REQUIRED makes itideal for homes of all ages.
You don't need a new home to set the right light. A white LED locator light glows when the dimmer switch is OFF for easy location in the dark, but never disturb a good dream. Single Pole and 3 Way Wiring. For 3-way applications, note that one of the screw terminals from the old switch being removed will usually be a different color (Black) or labeled COMMON.
Tag that wire with electrical tape and identify as the COMMON (Line or Load) in both the dimmer wall box and 3-way wall box. When multiple bulbs are controlled by one dimmer. Do not mix bulb types. All bulbs shall be either LED, CFL or incandescent. Using the same make/model of each bulb will enhance dimmer performance.
Form all wires carefully into wall box, mount dimmer but. Install wall plate with mounting screws supplied until all sections are finished. The dimmer doesn't turn on the light. Check that the bulb is installed and has not failed. Check if the circuit breaker or fuse is connected properly. Check if the neutral line of the lamp is connected properly. The light flickers throughout the dimming range. Check if there is a dimmable sign on the CFL or LED and make sure to use a dimmable CFL or LED light.
The lighting fixture is not compatible with our dimmer. Most dimmable LEDs and CFLs will not achieve as low levels as incandescent or halogen sources.
Control a group of lighting fixtures/lamps with one dimmer may cause flicker due to variation of dimming circuit and dimming range. Please use dimmer to control lights/lamps in the same type or same model.
CFL or LED lights flicker at low brightness. Go to Minimum Brightness Setting to turn up the minimum brightness level until it doesn't flicker. The LED lamp turns on slightly after turning off the dimmer. Go to Optional Locator Light to turn off the locator light of the dimmer, or use a dimmable LED bulb.
Single Pole / Two Location Control. 300W Dimmable LED, 300W CFL, 600W Incandescent. 150W Dimmable LED, 150W CFL, 600W Incandescent.
This item is in the category "Home & Garden\Home Improvement\Electrical Supplies\Electrical Outlets, Switches & Accessories\Electrical Switches & Dimmers". The seller is "everythingmustgo6" and is located in this country: US. This item can be shipped to United States.
Item model number: DM19-WH
Operating Voltage: 120 Volts
Mounting Type: Wall Mount
Color: White
Product Dimensions: 4.53 x 2.76 x 0.94 inches; 3.64 Pounds
Material: Nylon
Country of Origin: China
Connector Type: Back Wiring
Terminal: Screw
Operation Mode: ON-OFF
Item Dimensions LxWxH: 4.53 x 2.76 x 0.94 inches
Circuit Type: 3-way
Switch Type: Dimmer Switch
Size: 10 Pack
UPC: 7445003576597
EAN: 07445003576597