10 Leviton White ON/OFF Scene Micro Dimmer Fluorescent Preset Switches 17768-W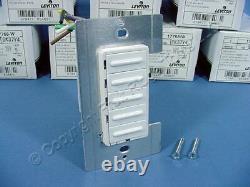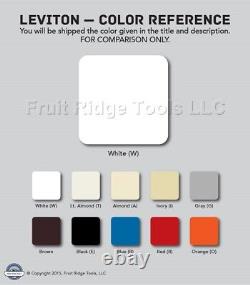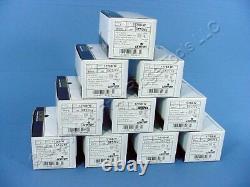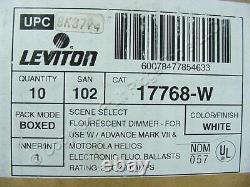 10 Leviton White ON/OFF Scene Micro Dimmer Fluorescent Preset Switches 17768-W. 10 Leviton 17768-W white Decora MicroDim Scene Selector dimmers. Four programmable dimming level buttons with LED indicators and separate ON/OFF preset button. Provides full range control of Advance Mark VII and Motorola Helios dimmable electronic fluorescent ballasts.
When installed as part of a Scene Select network, provides multi-location scene dimming with the addition of Leviton 17700 Scene Select Masters. Check the additional photos to see wiring diagrams of typical network installations. Can be installed with a variety of Leviton MicroDim devices. To provide sophisticated lighting schemes.
Please note that both single pole and multi-location installations require a Leviton 9900 Series Control Unit. To interface with the ballast. For use with Advance Mark VII and Motorola Helios electronic dimmable ballasts only - rated 3W 120VAC 60Hz for 2 to 40 lamps.
May be used in a Scene Selector network or alone with a single fixture for ON/OFF and four preset brightness levels. Multi-preset with LED indicators - each of the presets can be programmed to any lighting level in the dimming range, including OFF. Up to twenty Scene Dimmers can be used with a Scene Controller, accommodating sophisticated scene lighting designs.
Locator LED illuminated when lights are OFF to make it easier to find switch in the dark. Protected memory and voltage compensation maintain light levels after power outages and during minor power fluctuations. Encapsulated, gold-surfaced touch contacts resist humidity and wear. Wraparound mounting strap provides efficient heat dissipation and ease of installation. ON/OFF AC air gap switch completely disconnects power to unit for bulb changing or removal from service.
Low-end trim adjustment permits setting of minimum brightness level. This is New Old Stock and is returnable for any reason. SKU # L17768-W-10PK; Weight: 4.4200 lbs.