Smart Dimmer Switch, TESSAN Dimmable WiFi LED Light Dimmer Switch, Compatible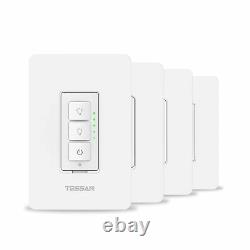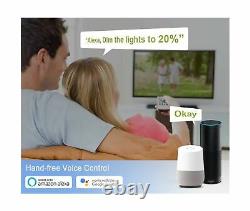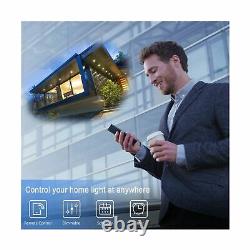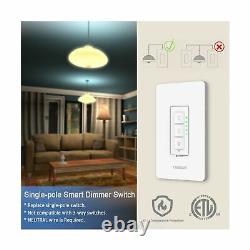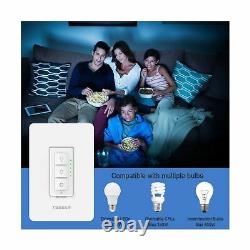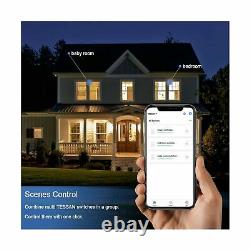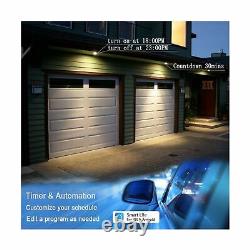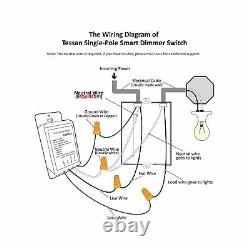 Smart Dimmer Switch, TESSAN Dimmable WiFi LED Light Dimmer Switch, Compatible with Alexa, Google Assistant, Smart Life APP, Single-Pole, No Hub, Need Neutral Wire (4 Pack). Product Dimensions : 5.04 x 3.31 x 1.3 inches; 1.33 Pounds. Date First Available : September 28, 2019. Best Sellers Rank: #97,904 in Tools & Home Improvement (See Top 100 in Tools & Home Improvement) #218 in Dimmer Switches. Customer Reviews: 4.6 out of 5 stars 130 ratings. Easy Installation: Quick installation with step-by-step guide; TESSAN Smart Dimmer Switch is designed in standard size, fits the regular 1, 2, 3, 4 gang wall plate; Ideal for your living room, basement and other spaces; Single-pole only, not support 3-way; Neutral wire is required for installation. Advanced 0-100% Dimming: Set the desired brightness from 0-100% to meet your ambience and cut down your bill; With Brightness Memory function, the light will turn back to previous brightness after turned off; Support dimmable LEDs and CFLs max 150W, incandescent bulbs max 400W.
Group Control and Share Function : Created a group for all TESSAN smart dimmer switch , you can control combine wifi switches in one command; The smart dimmer allows you to share the control with your family members; Let you and your family enjoy the proper ambience in different occasions by adjusting the brightness at any time. Read more We focus on delivering products and service purposed to build on the idea of better living through convenience, enhanced experiences, responsive customer care and affordability. Tips: Follow the instructions below will help you install your smart wifi switch correctly and quickly. Need a WiFi router with 2.4Ghz Channel; 2.4G WiFi ONLY; NOT support 5G WiFi; Neutral wire required; Be used in single-pole; NOT support 3 way; No Hub Required; WiFi Dimmer Light Switch Control and Dim your Lights with Smart Life APP or Voice Commands This smart dimmer would connects to your existing home Wi-Fi network easily to provide wireless control of your lights with no hub or bridge required.
You can easily set the ambiance of any room and control your lights from anywhere with Smart Life APP. Specification: Parameters: 100-240VAC 50/60Hz; Maximum Wattage: 400W(INC), 150W(Dimmable LED&CFL); Working Temperature: -20 85 ; App Supported: Smart Life APP; Wi-Fi required: 2.4GHz 8.0.2.11 b/g/n only, NOT SUPPORT 5G 8.0.2.11ac; System Required: iOS 8.0 or higher/Android 4.1 or higher; Read more Build your smart home with Smart Life app This dimmer light switch would work with "Smart Life" App to control your room lights. Smart Life App is the most popular IOT App in the US at this moment, so you can hunt for different products that work well with the Smart Life app for your home automation. Voice Commands Compatible with Alexa and Google Assistant TESSAN dimmable smart light switch works seamlessly with Amazon Alexa and Google Assistant to give you hands-free voice control over your lights.
It's so helpful when you back home with hands full of groceries. Timer Switch and Automation It's a timer dimmer switch, you can set automatic schedules for your light easily. Using the Smart Life app, you can schedule your hall lights to turn off at sunrise, or synchronize your living room lights with the sunset so you never come home to a dark house. Works with IFTTT to create applets according to your needs.
Safe to Use TESSAN smart Wi-Fi dimmer switch also built-in over temperature protection. When it gets hot, it will automatically turn off the light to protect your safety. Read more How to Install and Connect the Tessan Single-Pole Smart Dimmer Switch STEP 1: Install the Smart Dimmer Switch 1>Attach the white wire(neutral wire) from tessan smart switch to the group of white wires (neutral wire) in the electric box.
2>Attach the green wire from tessan dimmer switch to the ground wires in the electric box(Recommended but not required). 3>Find out which wire goes to the lights and attach it to the brown wire(load wire) from tessan dimmer switch. 4>Attach the hot wire in the electric box to the black wire(live wire) from tessan smart dimmer switch. STEP 2: Check Wiring and other items(IMPORTANT) 1> Manually turn on/off and Dim/Brighten the lights, test could the switch works well. 2> If the switch couldn't work well, back to STEP 1 to check the wiring or take a photo about the wiring TESSAN provides online installation assistance.
4> Installed the correct App named "Smart Life - Smart Living" or "Tuya Smart" STEP 3: Connect the Smart Switch to Wifi 1> Login the "Smart Life - Smart Living" App with your account. Or Why the lights is always powered, the switch can't turn on/off and dim/brighten the lights? A: You attached the hot wire to the light directly, so the swith could not control the lights, just rewiring follow the Wiring Diagram and STEP 1.
Q2: Why the switch can't connect to wifi? A: Kindly please check and follow the steps: 1> Check the Wiring follow the Wiring Diagram and STEP 1 2> Make sure your WiFi router on 2.4G Channel, no access limitation (like Static IP or MacAddress Bonding), set a different name for the two channel when the router is on 2.4G and 5G mixed mode, as "wifi 2.4g" and "wifi 5g".
4> Installed the correct App named "Smart Life - Smart Living" or "Tuya Smart". 5> Use the AP mode will improve your success rate for the wifi connection. 6> Please check the number of devices connected to wifi router, When the number exceeds the performance of the router, the wifi connection would be unstable or failed. So you need pause or turn off some devices, For some old routers, keep the number of devices connected to the router less than 10 at the same time, it will improve your success rate for the wifi connection. Q3: Why the switch can't connect with Alexa/Google home? A: -> Make sure your switch was installed correctly, add the switch in the "smart life" APP and be sure the switch works well with the smart life app.
> Check the skill your enabled was correct (the same as the Smart Life App logo). > Verify that the account used in the skill is the same as in the Smart Life App (many people use another account, or Alexa's account).
3-Way Wifi Smart Switch 3-Way Smart Dimmer Switch 1 Pack Smart Dimmer Switch Single Pole Smart Dimmer Switch Outdoor smart dimmer Outdoor Smart Plug 2-Outlet Application 3-Way or Single-pole 3-Way or Single-pole Single-pole only Single-pole only 1 Smart Outlet 2 Smart Outlets Dimmer on/off only on/off only on/off only Work with Alexa/Google Home/IFTTT Remote Control No Hub Design Scheduling and Timer Brightness Memory Smart Life App Compatible. We stand behind our products. Your receive the wrong item. The item "Smart Dimmer Switch, TESSAN Dimmable WiFi LED Light Dimmer Switch, Compatible" is in sale since Friday, April 30, 2021.
This item is in the category "Business & Industrial\Electrical Equipment & Supplies\Switches\Control Switches". The seller is "everydayideas" and is located in US. This item can be shipped to United States.
MPN: MJ-SD02
Brand: TESSAN
UPC: Does not apply
EAN: Does not apply